Repository's business day
In accordance with the Rules for the provision of repository services, Repository's business day is a period between 00:00 and 23:59, Moscow time: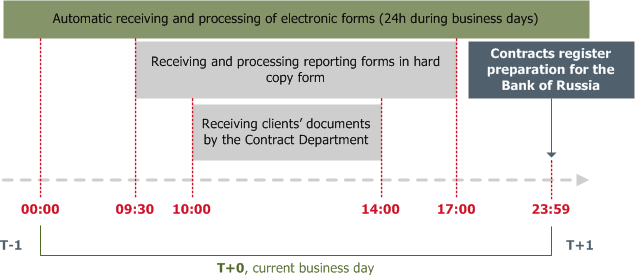 Mandatory reporting schedule*
Due to the publication of the Federal law 430-FZ on changes into the Federal law 'On securities market' regarding trade repositories and coming into effect of the Bank of Russia's Directive 4104-U (in Russian only) from 09 October, 2016, please pay attention to the reporting schedule regarding changes in the reporting, such as mandatory usage of UTI, reporting of trades (contracts) concluded without master agreements and reporting for the non-financial institutions: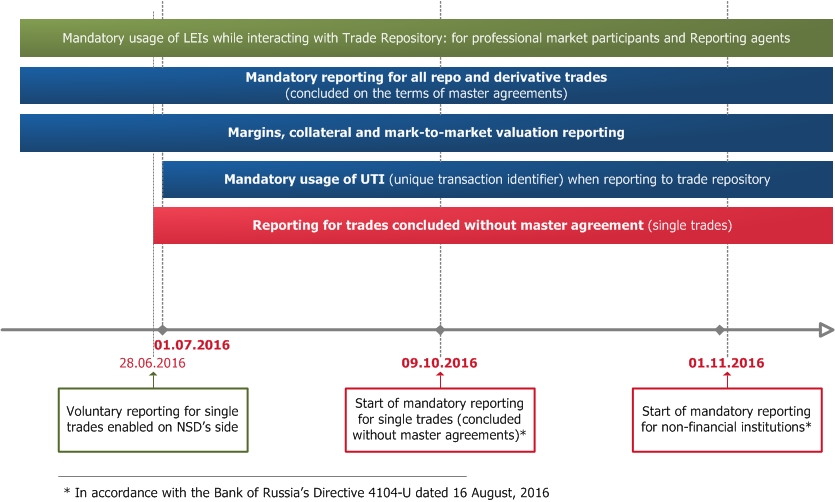 Reporting obligations*
Please note that the Directive sets a list of entities types, incorporated in accordance with the laws of the Russian Federation, for whom reporting is mandatory:
credit institutions;
brokers;
dealers;
asset managers;
depositories;
registrars;
non-governmental pension funds;
management companies of investment funds, unit investment funds and non-governmental pension funds;
joint-stock investment funds;
trade organisers;
clearing companies;
insurance companies.
In addition to the list below, entities, incorporated in the Russian Federation acting as parties of the trades with contract types, stipulated in the legislation, are required to provide information to the trade repository in case their counterparty is not a financial institution listed above and in case any of the below requirements is met:
volume of the single trade exceeds 1 billion RUB;
the sum total volume of trades in three consecutive months is 10 billion RUB or higher (hereinafter – threshold);
trades are concluded on the month following period when threshold was met.
---
* Information in this section of the website is published for market participants' convenience. Reporting terms and obligations are set by the laws of Russian Federation and Bank of Russia's regulations.