In accordance with the legislation, requiring from the market participants to report information on master agreements and trades with OTC instruments, NSD's Repository provides its clients with the following services:
gathering and registering information on derivative and repo contracts, concluded made under Master agreements or as 'singe' trades;
providing confirmations to clients and authorities on registered contracts;
information safekeeping and ensuring its confidentiality;
transferring information on registered contracts to the Federal Financial Market Service.
NSD's Repository is acting on the basis of the appropriate Licence No. 045-01 issued on 28 December, 2016 by the Bank of Russia.
Information on Repository's messages formats specifications is available on specialized web-portal: "Repository's messages specifications". Rules for the provision of repository services, eclaration of accession to the Rules are published at 'Documents / Repository documents' section of the NSD's website.
International concept
The concept of the trade repositories was introduced in 2009 on a G20 summit at Pittsburg, USA, where it was decided that all OTC trades with derivatives should be reported to such repositories. Summit's participants, as well as supranational organizations, such as the Financial Stability Board, were obliged to develop trade repositories legislation in the local markets.
The main function of a trade repository is to register information on all OTC derivatives trades and to provide data on such trades to a regulator.
Trade repository in Russia
Legal basis
Russia, as a G20 member, also developed legislation in order to fulfill obligations taken on G20 summit.
In general, two legal acts regulate the trade repository activities:
By chapter 3.2 "Repository" of the Federal law "On securities market"
Bank of Russia's Directive 4104-U dated 16 August, 2016 which:

established information disclosure procedures to the trade repository;
defined the terms for information disclosure to the repository by parties of the contract and terms for information disclosure from repository to FFMS;
set the rules for maintaining contracts register in the repository.
Penalties for reporting violations*
The Code on Administrative Violations imposes the following penalties on market participants:
Clause 4, Article 15.19: 'Violation of responsibility to disclose the information on the contract and (or) violation of terms of such disclosure, and (or) disclosing inadequate or incomplete information by the party of the contract, concluded on the OTC market on the terms of the master agreement implies an administrative penalty in amount:

from 1 000 to 2 500 RUB – for individuals;
from 20 000 to 30 000 RUB – for officers;
from 300 000 to 500 000 RUB – for legal entities.'
* Note that National Settlement Depository does not impose fines mentioned below.
Frequently Asked Questions
Our Company is already an NSD's client. Should we provide additional documents to become a Trade repository client?
**********
**********
No, additional documents are not required, but please contact us in case there are any question on that issue.
**********
----------
----------
Our Company is already a Repository client. Do we need to provide additional documents or submit the Declaration of accession to the to the Rules?
**********
**********
No, in accordance with the Rules you're considered as a Repository client by default.
**********
----------
----------
Is it possible submit CM016 in paper form?
**********
----------
----------
Becoming a Reporting agent
**********
**********
Reporting Agent is a legal entity who has entered into an Electronic Data Interchange Agreement (EDI), has a verified LEI and who has been designated by a client by submitting CM016 form (Application for designation of authorized reporting agent). At the same time, appointment should be confirmed by Reporting agent in order to perform its' functions.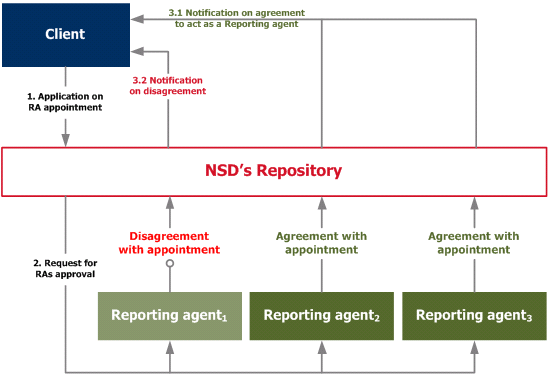 There are several options available:
Option 1:
reporting all trades (contracts) by yourself
Client is not required to submit CM016 form. In that case client shall act as a Reporting agent for all trades / master agreements.
Option 2:
delegating all reporting functions
Input Reporting agent's Identification code into the CM016 form and define its' credentials. By single CM016 form multiple number of reporting agents may be appointed
Option 3:
partial delegation of functions
Client indicates Identification codes of Reporting agent (agents) and it's own code with the appropriate parameters.
Please note:
Reporting agent should confirm its appointment.
In order to cancel Reporting agent's credentials amended CM016 form should be submitted where data on such agent should be erased.
**********