A risk management system is a set of rules, documents, and events for identifying, assessing, and responding to risks, as well as for monitoring and controlling risk levels.
NSD's risk management system, contributing to the stable development of the Russian financial market in accordance with best international standards, is focused on efficiently managing corporate risks, as well as the risks of participants in the financial market infrastructure.
The key goal of the risk management system is to ensure the stable functioning of the company's key business lines, to support their stable development, and to guarantee the fulfillment of the company's obligations to shareholders, clients, the regulator, and other stakeholders. Thus, risk management activities cover all NSD business lines:
Central securities depository;
Collateral management system;
Repository;
Payment system;
Information services.
NSD's risk management system allows the company to make managerial decisions based on a risk-oriented approach, to plan capital taking into account risks inherent to NSD operations, and to ensure that NSD achieves its strategic goals and fulfills its obligations to its shareholders, regulators, clients, counterparties, and other stakeholders.
When managing risks, NSD follows the Bank of Russia's and other regulators' requirements and recommendations, and international risk management standards, such as ISO 31000:2009 Risk Management: Principles and guidelines, COSO ERM, and CPMI IOSCO Principles for financial market infrastructures. 
The organizational model of the risk management system is based on the three lines of defense model (see the picture below). In this model, structural units, in accordance with their functions, form one of the lines of defense as part of the risk management process.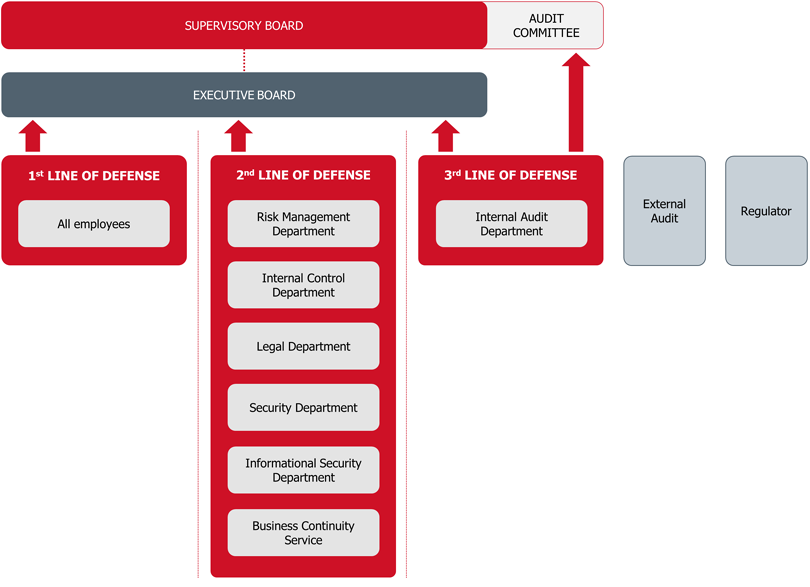 Insurance against Risks
On 27 March 2023, NSD and Ingosstrakh Insurance Company entered into a professional securities market participant's blanket insurance contract (Policy No. №433-036598/23) for a new term.
The coverage period under the Policy is 01 April 2023 to 31 March 2024 (inclusive).
The coverage amount is 7,8 billion (seven billion eight hundred million) Russian rubles.
Under the Policy, NSD as the policyholder is covered against damages that may be caused to NSD by financial or computer crimes (willful misconduct by NSD's employees or third parties), and NSD's Clients losses resulting from a breach by NSD of its professional activities.
The Policy covers NSD's activities carried out under NSD's licenses, constitutional documents, and agreements.
NSD has been obtaining coverage under blanket insurance plans for more than 10 years, and no insured event ever occurred over that period.
Ingosstrakh Insurance Company's details:
Full name: Public Joint-Stock Insurance Company Ingosstrakh
Short name: INGOSSTRAKH PJSIC
Registered office: 12 Pyatnitskaya Street, Bldg. 2, 115035 Moscow, Russia
Taxpayer Identification Number (INN): 7705042179
Principal State Registration Number (OGRN): 1027739362474
Bank Account: 40701810200010000001
Bank: Bank SOYUZ, Moscow
BIC: 044525148
Correspondent Account: 30101810845250000148
Licenses No. СИ 0928, СЛ 0928, ОС 0928-02, ОС 0928-03, ОС 0928-04, ОС 0928-05, and ПС 0928 issued on 23 September 2015 by the Central Bank of the Russian Federation for insurance and reinsurance business. The licenses are perpetual.